It goes without saying that time of year my inbox is practically overflowing with holiday-centric electronic mail. Sure, I still get the occasional fan letter ("Why do you hate me because I'm fat?", "Like to  meet booted  and  gay  gloved  cops", "what do you think about a game like socom ,is it ok to play that game?") but the majority of the emails I receive throughout the winter months are request for a new entry in my  world-renowned series of holiday gift guides.
So you know what? I'm gonna make their holiday wishes come true. Ladies and gentlemen…put your hands together, pull them apart, and bring them together again forcefully enough to create a sort of slapping sound for The Official 20XX Holiday Internet Gift Guide: Special Extended Edition – Director's Cut.
Go!
FOR THE FARMING EQUIPMENT ENTHUSIAST :
THE GREAT NATIONAL TRACTOR SHOWCASE: NATIONAL THRESHERS (2006, DVD)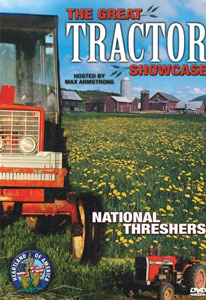 From the back of the box:
Tab Thornstien, international playboy and world-renowned farm equipment journalist, has agreed to come out of retirement for one last big score. The U.S. Department of Agriculture needs his help in tracking down a group of rogue threshers whose blatant disregard for the 1869 Illinois Farm Machine Safety Act has angered several citizens of a small farming community located in southern Jasper County.

With the help of Bill Hawks (Former Under Secretary of Agriculture for Marketing and Regulatory Programs), Thornstien chairs countless subcommittees, petitions tirelessly for additional oversight of governmental bodies that work closely with the tri-county area's heavy machine operators unions, and goes deep undercover at the 60th Annual Reunion of The National Threshers Association in an attempt to expose what he believes to be widespread agricultural corruption. 60 Minutes.
FOR THE XXXTREME GAMER: 
G-FUEL ENERGY DRINK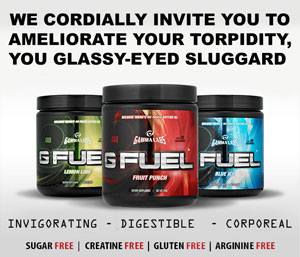 G-fuel is the ultimate pro gaming fuel for the ultimate pro gamer. G-Fuel is not an energy drink for teachers or baseball card enthusiasts or supreme court justices. G-fuel was created by gamers for gamers.
What makes G-Fuel different from other energy drinks? Holy shit! I'm glad you asked. G-Fuel is probably the only energy drink which claims that it is specially formulated to provide fuel for the brutal, bonecrushingly-intense lifestyle lived by hardcore gamers. Heavy, right?
Still skeptical? I expect these testimonials will prove enlightening:
"I used to be a "scrub", but once I started quaffing G-Fuel, I became a legend in the pro-gaming community. Whether I'm sniveling after a lost-match like a scolded toddler, punching my knuckles bloody on a $260 keyboard, or shrieking crude rape threats into a headset, G-Fuel is there to ensure I'm always at the top of my game." – BlazinSoul420  
"I'm a four-time world champion Counterstrike player and G-Fuel addict who has been gaming for more than 26 years. Recently, I developed a blood clot in my leg which subsequently broke free and became lodged in my brain, restricting bloodflow and resulting in a series of debilitating strokes.

The doctors say my sedentary lifestyle and was to blame for all of this, but I'm not so sure. But my suspicion is that my brain simply wasn't getting enough G-Fuel. So four days ago I went off my stroke medication and started injecting G-Fuel directly into my temporal lobe with a 13 gauge piercing needle. I haven't had another stroke since so it seems pretty obvious that G-Fuel cured my strokes." – [oXXo] Capt.BambaBoyIII
FOR THE DISCERNING OLIGARCH
PAOLO COSTAGLI STERLING SILVER/18-KARAT GOLD SALT & PEPPER SHAKERS – $4,600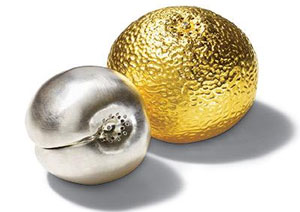 FOR THE "ORGANIC LIFESTYLE" CONNOISSEUR:
MOTHER STONE'S OLDTIME COUNTRYHEART ORGANIC FARMS ALL-NATURAL CHINA HEALTH SHAKE

S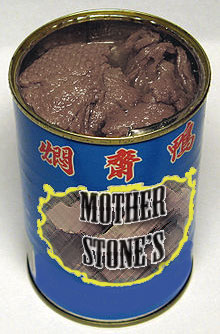 One of humanity's greatest weaknesses is that it is constantly striving to improve human lives. "Let's create new medicines to cure diseases and alleviate suffering, let's put seatbelts and airbags in our cars so fewer of us die, let's allow women to vote and integrate black people into our schools". It truly is disgusting.
Thank God, then, for the "organic lifestyle" movement, a refreshing commonsense approach to science which seeks to do away with modern absurdities such as large-scale, painstakingly-designed doubleblind studies performed by disinterested third parties and subsequently subjected to peer-review by equally trustworthy institutions.
Why is Mother Stone's Oldtime Countryheart Organic Farms All-Natural Asian Health Shake better for you than traditional storebought "synthetic" health shakes? The answer is simple: Mother Stone's Oldtime Countryheart Organic Farms All-Natural Asian Health Shakes are 100% pure. All our ingredients are harvested from untouched corners of the earth by ancient Chinese golems before being mixed, packaged, and shipped by an elite cadre of self-trained apes, thus ensuring that every single molecule of the final product is free from the influence of Modern Man, self-poisoner and filthy rapist of the wilds.
Here's a list of our 100% organic, natural, free-range, unprocessed ingredients:
Cave Salt
Iceberg Water
Plutonium (Exfoliant)
Formaldehyde (Coloring Agent)
Sulfuric Acid (Coloring Agent)
Equine Semen
Uranium (Coloring Agent)
Conium Maculatum (Coloring Agent)
Highly-Concentrated Castor Bean Oil (For Texture)
As you can see, there are no synthetic ingredients here. And since Mother Stone's Oldtime Countryheart Organic Farms All-Natural Asian Health Shakes are classified as dietary supplements, you can rest assured that the final product hasn't been tampered with by the FDA or other heavy-handed anticapitalist big-government regulatory bodies responsible for ensuring the "health & safety" of their citizens.
Mother Stone's Oldtime Countryheart Organic Farms All-Natural Asian Health Shakes: It's only natural!
FOR THE READER OF THIS PAGE:
THE FINAL PARAGRAPH OF THIS ARTICLE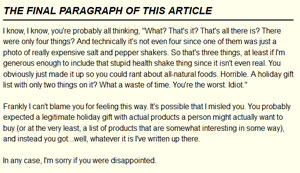 I know, I know, you're probably all thinking, "What? That's it? That's all there is? There were only four things? And technically it's not even four since one of them was just a photo of really expensive salt and pepper shakers. So that's three things, at least if I'm generous enough to include that stupid health shake thing since it isn't even real. You obviously just made it up so you could rant about all-natural foods. Horrible. A holiday gift list with only two things on it? What a waste of time. You're the worst. Idiot."
Frankly I can't blame you for feeling this way. It's possible that I misled you. You probably expected a legitimate holiday gift with actual products a person might actually want to buy (or at the very least, a list of products that are somewhat interesting in some way), and instead you got…well, whatever it is I've written up there.
In any event, I am sorry if you were disappointed.