When it comes to toys, children have ridiculously low standards. A kid will play with anything. If you don't believe me, pick up any random object (a discarded syringe, a handful of broken glass, a bunch of loose change clumped together because someone spilled syrup or something in the cup holder) and hand it to a two-year-old. Chances are they'll begin playing with it, and good many of them will probably try to eat it too. That's how openminded kids are; when it comes to potential toys, everything gets a fair shake.
Alas, the same cannot be said of adults. As humans age, we develop "tastes" and the ability impose "value judgments" upon "objects" people "hand to us". For example: If you were to offer a full-grown woman a bucket filled with antifreeze and say "Drink this; it's antifreeze", she would almost certainly refuse. Not so with a child. In fact, a recent survey conducted by me at a local playground found that a full 100% of children happily drank antifreeze out of a bucket when I handed them the bucket and said "Drink this antifreeze". 
Speaking of antifreeze, let's not talk about antifreeze anymore. Here is my review of the original 1986 version of Fireball Island, a board game I do not care for.
WHAT IS FIREBALL ISLAND, AND WHY?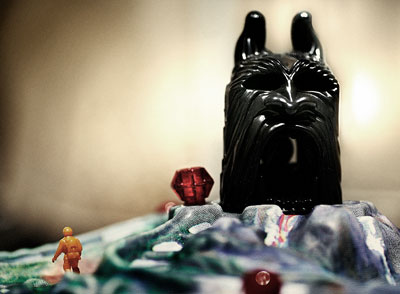 Fireball Island is a boardgame which was, at one point, released. What this means is that copies of it were printed at a factory and subsequently shipped to 2nd and 3rd parties who allowed customers to take the game home in exchange for currency.
Got it? Great. Now that I've covered the boring logistics out of the way I can get the to the exciting part: A description of the game itself. I'll begin by transcribing the text off the back of the box:
 
Welcome to the island of FIREBALL ISLAND. In FIREBALL ISLAND your goal is to steal a plastic JEWEL from the top of MOUNT FIREBALL. But beware: On FIREBALL ISLAND, fireballs REIGN SUPREME! To be clear, this is not meant LITERALLY but FIGURATIVELY! Fireballs hold dominion over FIREBALL ISLAND in a METAPHORICAL sense, in that FIREBALL ISLAND'S inhabitants live in FEAR of the FIREBALLS and as such are FORCED to adjust their LIFESTYLES and BEHAVIOR so as to AVOID getting INCINERATED by said FIREBALLS. In THIS WAY, the FIREBALLS HOLD DOMINION over FIREBALL ISLAND'S inhabitants! CERTAINLY I do not mean to imply that the FIREBALLS themselves are SENTIENT RULERS, as that would be ABSURD! They are merely LARGE, PERFECTLY SPHERICAL balls of fire which appear without explanation at ROLL from the top of MOUNT FIREBALL. In any case, I APOLOGIZE if I gave any of you BRAVE TREASURE HUNTERS the wrong IMPRESSION about SOME of the LOGISTICS OF FIREBALL ISLAND, but hopefully you at least have a GENERAL IDEA of the DANGERS that AWAIT you on this ISLE of TERROR!

In conclusion…FIREBALL ISLAND!
Exciting as this description is, it doesn't really do a good job of telling potential players what playing Fireball Island is actually like. Were it up to me, I would've added the following as a postscript to the above:
So IF your idea of a GOOD TIME is paying SEVERAL HUNDRED (at press time) DOLLARS for what is essentially 45 MINUTES OF DICE-ROLLING punctuated by OCCASIONALLY BEING ALLOWED to roll a SMALL MARBLE down a plastic mountain, then by all means, BUY THIS GAME.
ALRIGHT SO WHAT'S IN THE BOX? I'M SUPER INTERESTED IN THE VARIOUS PARTS INCLUDED IN OLD BOARD GAMES. OH BOY! WHAT A THRILL.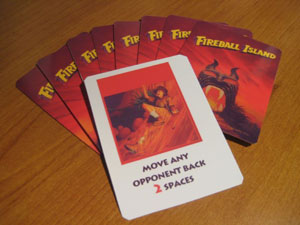 Well, there are game tokens, a couple marbles, some bridges, and of course: ACTION CARDS. These are cards with various actions on them. Various dull actions. Artwork aside, it seems fairly obvious that Fireball Island's designers spent about six minutes working on these cards.
For example:
Reroll The Die
Take Another Turn After Your Turn
Move Ahead 4 Spaces Instead of Rolling The Die
Move Ahead 5 Spaces Instead of Rolling The Die
Move Ahead 6 Spaces Instead of Rolling The Die
Double The Next Die Roll
Move Any Opponent Back 1 Space
So yeah, these cards were an afterthought. I really don't think it would've have taken them long to come up with something more interesting, seeing as the outcome of the game is almost completely random as it is. Why not just go all-out and make the cards totally nuts?
Smile A Crooked Smile; Masturbate Furiously; Lose A Turn
Push Mangled Babydoll Around In Stroller
Shriek Ethnic Slurs Instead Of Rolling Die
Bite Into Tongue & Dribble Blood All Over Board
No! No! No! No! No! No! No! No! No! No! No!
Move Ahead 7 spaces, Then Back 3 Spaces, Then Ahead 2, Then Back 12. Now Let Out A Howl And Dramatically Sweep The Board Off The Table. Now Drop Your Pants. Now Take Out The Knife…
WHAT ARE THE PLAYER TOKENS LIKE? IS ONE OF THEM A SHOE? IN MONOPOLY I ALWAYS BE THE SHOE.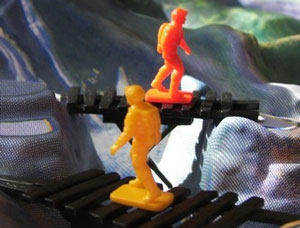 No, there aren't any shoes. Of course there isn't a shoe. Why would there be a shoe? Enthusiasts of games featuring anthropomorphic articles of clothing possessing just enough sentience that they are able to navigate treacherous mountain paths should definitely look elsewhere.
In Fireball Island you get to choose from a bunch of boring pastel figures short-shorts and in pith helmets. All of them are men too, presumably because it was thought that no woman would be stupid enough to risk her life on an expedition to retrieve a shitty plastic jewel from a remote (and clearly cursed) tropical island renowned for its active volcanoes, absurdly rickety bridges, and house-sized flaming boulders.
Well, either that, or Fireball Island is sorta sexist. But I think I'll give it the benefit-of-the-doubt since it comes from Hasbro, the always-inclusive, extremely progressive company behind products such as Girl Talk (AKA "Hey Girls Let's Gossip About Boys On The Pink Phone "), Mall Madness ("Hey Girls, Let's Go Shopping Because If There's One Thing All Females Love It's Pretending To Buy Shit!"), and Mystery Date ("Hey Girls, Let's Drool Over Cute Guys And Fantasize About The Day One Of Them Will Ask Us To Marry Him And Give Our Silly Little Lives Purpose & Meaning and also All You Non-Heterosexual Girls Can Go Play By Yourselves And Feel Even More Alienated And Alone Because Mystery Date Is Straights Only!")
WHAT IS WRONG WITH YOU? I MEAN JESUS CHRIST, LOOK AT THE SENTENCE YOU JUST WROTE. IT'S ABOUT 8,000 WORDS LONG AND IMPOSSIBLE TO UNDERSTAND. I DIDN'T COME HERE TO READ THE BORDERLINE-INCOMPREHENSIBLE RAVINGS OF A  LUNATIC. I CAME HERE TO READ ABOUT FIREBALL ISLAND!
Alright, alright, fine. I'll get back to Fireball Island, but I really only have one thing left. It's a small flowchart I made to help guide potential purchasers of Fireball Island. Sort of a public service. I just need you to ask me about it so I can post it in my response.
BUT I DON'T CARE ABOUT YOUR STUPID CHART. WHY WOULD I? IT'S PRETTY OBVIOUS YOU DON'T EVEN HAVE ANYTHING INTERESTING TO SAY ABOUT FIREBALL ISLAND. YOU'RE JUST SCREWING AROUND AND WASTING EVERYONE'S TIME.
Thanks for asking! I'd be more than happy to show you a Fireball Island buyer's guide in flowchart form to wrap-up this article! Here you go: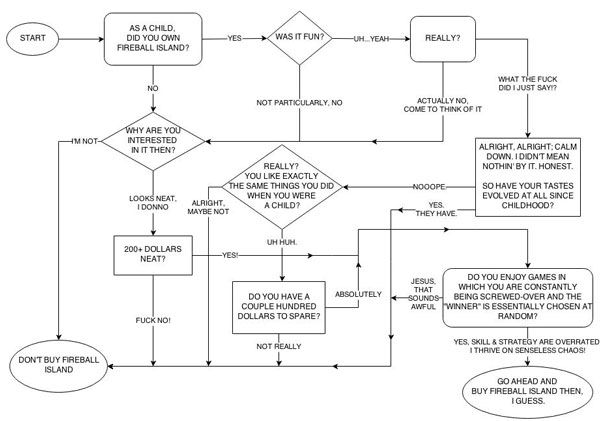 You're welcome! And thanks for reading.