When it comes to lame environmental superheroes, there few lamer than Captain Planet. Admittedly, this is mostly due to the fact that I can't think of any other environmental superheroes and can't be bothered to do any research, but it's also because he's a scantily-clad man with a green mullet whose only friends are the harem of children who dress like him and all wear matching jewelry which he himself has provided. Nothing strange about that, right?
Some might point-out that writing an article ridiculing Captain Planet is "the author of such an article kind of "dumb" and "obvious", and that "the author of such an article is really just picking low-hanging comedy fruit". But I would respond by ignoring those points and saying that one of the things I appreciate most about Captain Planet is the ease with which he can ridiculed. A person doesn't really even need to actively "make fun" of him, because simply listing various facts about him is enough to send most people into fits of derisive laughter. The character is clumsy earnestness made manifest, and I think that deserves some recognition.
So let's begin, won't us?

1. JUST LOOK AT HIM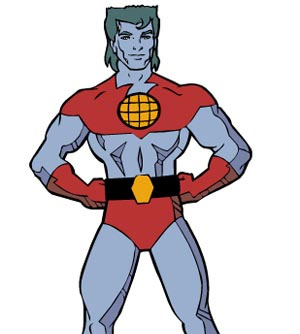 Seriously. Take a long, hard look. We're meant to believe that this is the form an ageless, indescribably powerful extradimensional being has chosen to take. Chosen! According to the shows lore, he actively chose to look this way. On purpose.
Yes, out of every possible manner in which he could have assembled his atoms, he made the decision to appear to humanity as a sparkling powder-blue interpretive dancer sporting what appears to be torn up remnants of a skintight baby tee with a clipart globe on it, oversize red briefs, and a dirty green flat top mullet.
But then again, they do say fashion is cyclical. Maybe in ten or twenty years, the "aggressively-flamboyant molesty hillbilly mannequin slash early 80s punk rocker who continues to wear terrifying spandex clothes he has long since outgrown" look might make a comeback.
Here's hoping.

2. HIS INFURIATING PROPENSITY FOR EMPLOYING TERRIBLE PUNS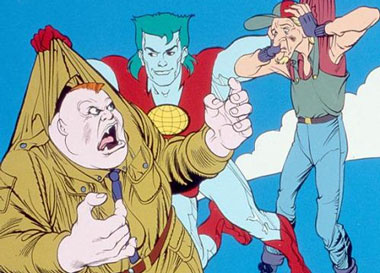 (After tying up a group of bad guys with a rope) "Looks like you guys are all tied up!"
(After burying a group of bad guys in an avalanche) "Guess these guys needed to cool off for a while!"
(After throwing a group of bad guys into the ocean) "Looks like those guys are all washed up!"
(After electrocuting a group of bad guys with lightning) "Shocking, isn't it!?"
(After covering a group of bad guys in tar) "Stick around for a while!"
(Before tossing a group of bad guys into a pile of garbage) "Time to take out the trash!"
If puns like these aren't enough to make you want to carve off your own face with a rusty civil war era bayonet…well then I suppose should I tip my hat to you for even being able to read this sentence, because you obviously suffer from severe brain damage.
3. HIS ONE WEAKNESS IS POLLUTANTS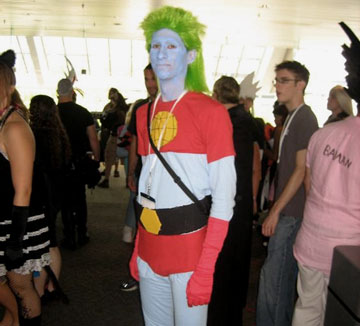 Is it the pollution itself which harms him, or is the mere idea of pollution enough to bring him to his knees? Would he be injured by the concept of soil erosion? An overabundance of sulfur dioxide in the atmosphere? Could you kill him by throwing him into a lake which contained several broken-apart pieces of styrofoam that blew out of a guy's boat? Who knows? But also, who cares? Certainly not me.
4. HIS NAME IS "CAPTAIN PLANET"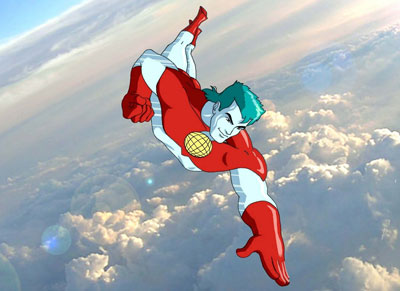 I mean come on, it's like they didn't even try. I have little to no experience in the field of Environmental Superhero Naming, and I know for a fact that I could come up with 10 cooler names than "Captain Planet" without even breaking a sweat. Watch and learn, envirosuckers: