I've always been a big fan of As Seen On TV gadgets. Not in a "wow, this stuff is actually pretty cool and useful" sort of way though. It's more like an "Oh my god, this is the most hilarious piece of shit I have ever seen, I can't even believe it" kind of thing. Even at their very best, infomercial products often offer nothing more than a slightly more expensive way to accomplish a task which wasn't really all that important in the first place (I am looking at you Magic Bullet). Of course, this very thing is what makes them so entertaining.
So let's take a look at four of the dumbest infomercialesque products currently on the market: The Backup, Instant Arm Lift, The Freedom Tray, and Jingle Jugs. Yes, even the names are fantastically garbagey.
(Please note that there are links to these product's websites included, and most of them will probably not work because no one cares to maintain them).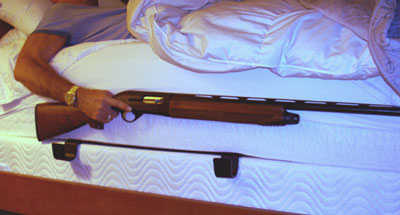 The most important thing in the world to me is protecting my family and/or possessions from the ethnic people who I imagine will one day break into my cluttered, lower-middle-class home. I do everything I can to discourage them from believing I own anything of value (failing to paint my siding for 10-15 years, leaving plenty of old junk on my unmowed lawn, allowing my storm door to rust so much that it eventually falls off its hinges) but I know in my heart that this is not enough. I know that one night, in the not-too-distant future, a gang of dark-skinned men in sports jerseys and sagging pants will break into my house in the hopes of procuring some of the valuable commemorative plates, diabetic testing supplies, or numerous back issues of Readers Digest I have heaped in my garage.
This is where The Backup comes in. It bestows upon its purchaser the peace of mind that only 'keeping a loaded shotgun within arm's reach as you sleep' can bring. Gun safes are a nice idea in theory, but a man cannot possibly protect his home and those he loves from drug dealers and illegal immigrants when his guns are kept properly secured in a safe, six feet away.
Even sniveling liberals will have to agree: It is far safer to attach a loaded shotgun directly to the side of a bed where its owner–upon hearing a suspicious noise–can snatch it up in a sleepy stupor and begin firing blindly into the darkness while screaming the pledge of alliance.
Surprisingly enough, you'll find that most thieves are also big fans of The Backup as well, as it provides them with easy access to a powerful firearm they would not normally have brought along on a simple burglary. The only caveat being, of course, that they are stealthy enough to sneak up on someone who is asleep.
Unlikely.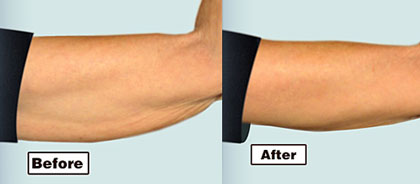 Aging is a devastating medical condition that has plagued humanity since the dawn of time. And without a doubt, the most troubling aspect of aging must be Saggy Arm Flab Syndrome.
Brought about by sloth, obesity, or genetics, Saggy Arm Flab Syndrome (SAFS) is an ailment which will eventually affect us all. But of course, there are ways of preventing oneself from falling prey to SAFS. One popular method is to ensure that you are placed into an internment camp as a child, where you will subsist on a steady diet of white rice, warm water, and vicious beatings until, at the age of 23, you'll finally succumb to despair, and the next morning the guards discover your body dangling by a belt from a roof beam.
While effective, this style of arm flab prevention is not for everyone, as death at a young age renders the user mostly unable to enjoy many of the fruits of an armflabless life (waving to someone while wearing a tank top shirt, for example). This leaves only three possible methods of arm flab control (aside from accepting that human bodies chance over our lifetimes, which is obviously not an option).
Cosmetic Surgery ($10,000+)
Exercise (Free, Aside From Constant Need For Strenuous Physical Exertion)
Absurd, Overpriced Piece of Translucent Polypropylene Tape ($10-$20)
I don't think I have to tell you that when faced with the prospects of having to exercise and paying exorbitant amounts of money for surgery, most arm flab sufferers are going to go with the tape.
Here few of these (actual) glowing quotes from satisfied customers:
'If you use this product, your arms may look less flabby, but they'll still be flabby. It's going to hurt like hell when you rip the tape off. And you will reek of B.O. because they don't recommend deodorant.'

'I ordered two packs of these which cost over $40. I couldn't get mine to lie as flat without the wrinkles. I almost needed someone else to apply them. It was also uncomfortable. I couldn't see me keeping them on ten minutes. I ultimately returned them…'

'I RECEIVED THE LIFT STRIPS ON FRIDAY APRIL 2 2010 I TRYED AND TRYED TO GET THEM TO WORK, BUT THAT NEVER HAPPEN, I WAS REALLY HOPEING THIS PRODUCT WOULD WORK, I AM SENDING THIS PRODUCT BACK'
Sold. I just bought 50 packs.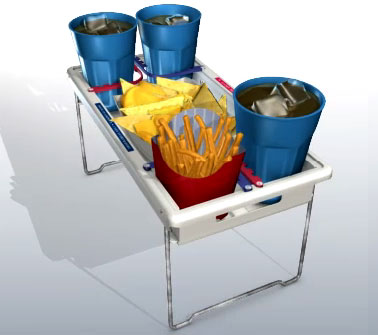 I DONT KNOW ABOUT WHERE YOUR FROM BUT HERE IN AMERICA WE CHERISH FREEDOM AND THE HOME OF THE BRAVE. AND WHAT BETTER WAY TO CELEBRATE THIS CRISTIAN NATION OF OURS THAN BY CRACKING OPEN A FOLDING TRAY AND A BUCKET OF SUDS AND PEANUT BUTTER NACHOS AT THE BIG GAME OR DOGS TRACK.
BUT THIS AINT YOUR DADDYS FOOD TRAY (WHICH WAS PROABABLY MADE BY SOME SLANT), THE FREEDOM TRAY IS MADE BY (AND FOR) 100% PUREBLOOD AMERICANS WHO HAVE DEDICATED THEMSELVES TO THE LORD CHRIST, RV CAMPING, AND PROTECTING OUR FOODSERVICE AND JANITORIAL JOBS FROM WETBACKS.
WHAT ARE THE FEATURES I'M GLAD YOU ASKED:
CREATED BY A FATHER OF THREE: HE WAS SICK AND TIRED OF HIS KIDS DISRESPECTING HIS CAR BY SPILLING ALL-AMERICAN BURGERS WITH ALL THE FIXUNS INTO THE RADIATOR. WHAT A MESS. FOOD CANT SPILL WHEN ITS IN A TRAY ITS IMPOSSIBLE.
MADE IN AMERICA: SUPPORT OUR TROOPS BY BUYING AMERICAN. EVERYONE KNOWS AMERICANS MAKE THE BEST PRODUCTS. WHO WANTS A TRAY MADE BY A BUNCH OF SKINNIES WHO CANT EVEN AFFORD THEIR OWN BOAT AND MULTIPLE HOMES/TRUCKS. NOT ME.
SIMPLIFY YOUR LIFE: BUYING MANY FREEDOM TRAY IS THE BEST WAY TO UN-DECLUTTER. THROW AWAY EVERY OTHER OBJECT IN THE HOUSE. FREEDOM TRAY IS HERE TO FREEDOM STAY.
STURDY: TRUST US WE TESTED IT BY HAVING MY WIFE SIT ON IT AND NOTHING EVEN HAPPENED AND I LIKE MY WOMEN BIG AND BOLD.
GOD BLESS AMERICA: LAND OF THE FREE. REMEMBER TO PROTECT THE SANCTITY OF MARRIAGE AND FETUSES FROM THOSE FAT CATS IN WASHINGTON.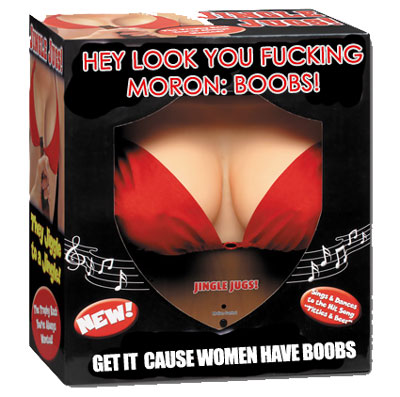 I have improved the messaging of the box
Jingle Jugs would probably best be described as the lecherous, niece-fondling uncle of Big Mouth Billy Bass. And because of this, I am not even going to attempt to describe the astronomical levels of folksy lowest-common-denominator white trash idiocy this "gag" product achieves, because of the rage it would inspire in my very soul. Instead, why don't you go ahead and read their hilarious product description and maybe look up the commercial yourself if you feel like it because I can't even bring myself to link to it:
The Trophy Rack He's Always Wanted! What is it with these Jugs? Fashioned after a lifelike set of woman's breasts, Jingle JugsTM, when activated, begin to move in rhythmic motion to the song, "Titties & Beer" by Capitol Records success Rodney Carrington. The Jingle JugsTM make a perfect gag gift. They're a must have in the game room or in the bar. Put 'em in your home office or garage and liven up your workspace.
So to put it another way, the enjoyment a person will likely derive from Jingle Jugs' is directly proportional to their propensity for wearing clothing advertising alcoholic beverages, watching a fishing championship, and their ability to know just who the fucking fuck Rodney Carrington is.
Alright, maybe that's slightly unfair. I'm sure there are plenty of lovely, intelligent people who'd get a real kick out of Jingle Jugs. People like…
14-Year-Old Boys With Abusive Fathers
Illiterate Guys On Mushrooms
Rapists
Fish-Smelling Obese Men In Walmart Mobility Carts
Readers of Maxim
Sex Offenders In The Navy
Beefy Women Working Nights At a Factory
Men Who Cheat On Their Wives
So if one or more of these descriptors applies to you, I suggest that you climb into your rusted-out 94 Grand Am and take a trip down to the local drugstore, where you'll be able to celebrate the unabashedly juvenile, corporatized objectification of women by spending 50+ dollars on a pair of creepily twitching fake breasts, you stupid mouthbreathing son of a bitch.
God Bless The USA
So there you have it: A mattress gun rack, packing tape for flabby arms, a freedom themed tv tray, and a pair of novelty animatronic breasts. I hadn't noticed it before, but it seems that I've unintentionally created a perfect microcosm of America and all that she stands for. Well maybe not everything she stands for. I'm saving the "Hypocritical Christian Tabletop Grill", "Father Of Three Who Died Due To Insufficient Healthcare Ab Machine", and the "Gleefully Denying The Rights of Homosexuals Vegetable Chopper" for another time.
So don't hesitate, act now, and all that other infomercial crap, as the products discussed in this article will be available for only a limited time. Namely: Until they manage to scam enough suckers and word finally gets around that they are gimmicky crap.